---
A Couple Stocks for Consideration - FTR and HFC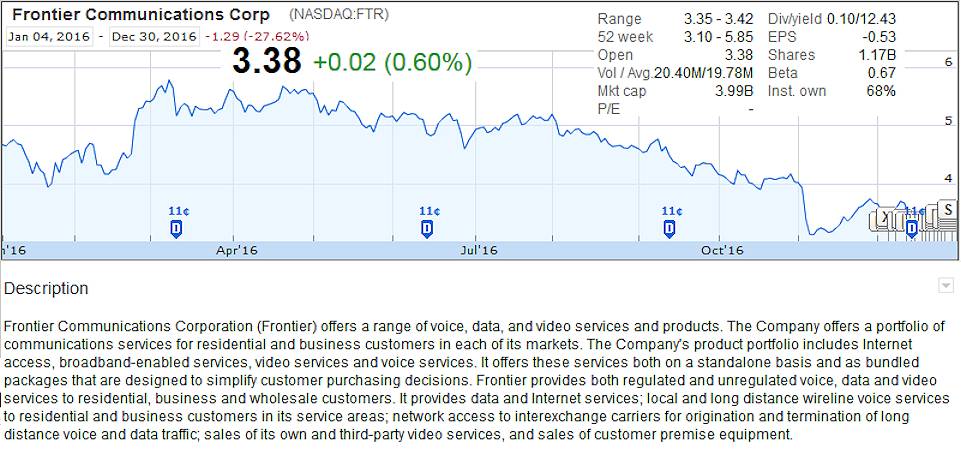 I like Frontier for its current price and yield. About half of my original purchase was in the high 4's and then later on averaging down to the low 3's. This is one of those companies which sites like Seeking Alpha and Motley Fool love to crucify on a regular basis and that crucifiction centers around debt load, business plan and the likely odds the dividend is going to be cut prior to the next distribution.

It reminds me of PetMeds, which I have held for years in that every quarter without fail, you start hearing 'OMG this is a sell, Amazon is going to eat their lunch! They cannot possibly maintain their current dividend!'. .......and every quarter PetMeds pays their dividend and Amazon

still

has not gobbled them up.

Granted, one needs a strong stomach if looking at Frontier if fluctuation in stock price is a major consideration but.......if one were to reinvest those dividends at the current yield of 12%......that's a pretty sweet deal.

I don't see Frontier going out of business anytime soon.


---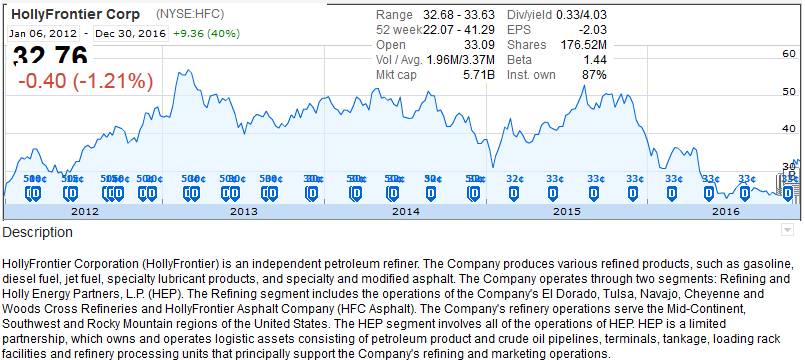 HollyFrontier is a great example of a cyclical stock and this is the third time I've owned it. I picked it up this time around in the low 20's, and I think if you can get this in the low to mid 30's, you will still be quite pleased with yourself holding this for dividends and capital appreciation.

One thing I like about HollyFrontier is its broad diversification within its industry - transportation, refining, marketing and the wide range of lubricants and specialty items.

So, if the Oil and Gas sector is under-represented in your portfolio, I think HollyFrontier is definitely worth a look.


---



Bonds vs Bond Funds vs Risk



Bonds or Bond Funds, what is the better option?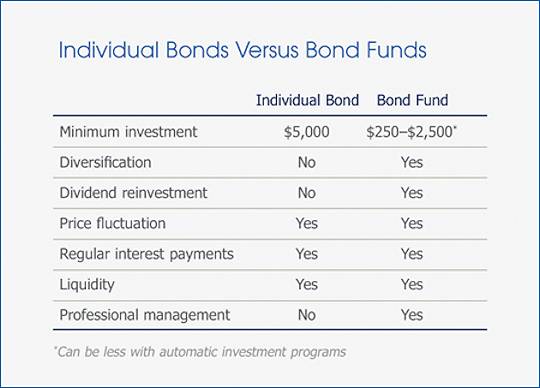 Quality Bond issues of course, if one can afford to purchase enough individual issues for portfolio diversification.

With individual bonds, one buys a bond issued by XYZ company with a coupon rate of 5% for 10 years. At the end of 10 years, the investor expects to get his initial investment back, along with interest paid out at 5% along the way.

What is the risk? The risk is in the credit quality of the the bond issuer and the odds you will get your money back. The higher out on the interest rate curve, the more risk assumed.

This is all pretty much straight forward.

Bond funds however, have an added element of risk and that is in yield and duration. A rise in rates will cause a decline in the bond fund's NAV. Conversely, a decline in rates will cause an increase in fund NAV.

Multiplying the bond fund's duration by the interest rate increase /decrease will result in the new NAV for the fund:




Losing almost 1/4 of the fund's NAV over a 2% interest rate increase is something of a wake up call, and this is a risk with bond funds. The shorter the duration, the less one loses and of course, the less one makes.

With an individual bond, this is

not

a concern

if

the bond is held to duration.

---

Figuring out your

Real

portfolio diversification - Instant X-Ray



Simply head on over to Morningstar.com, search for Instant X-Ray and plug in your holdings: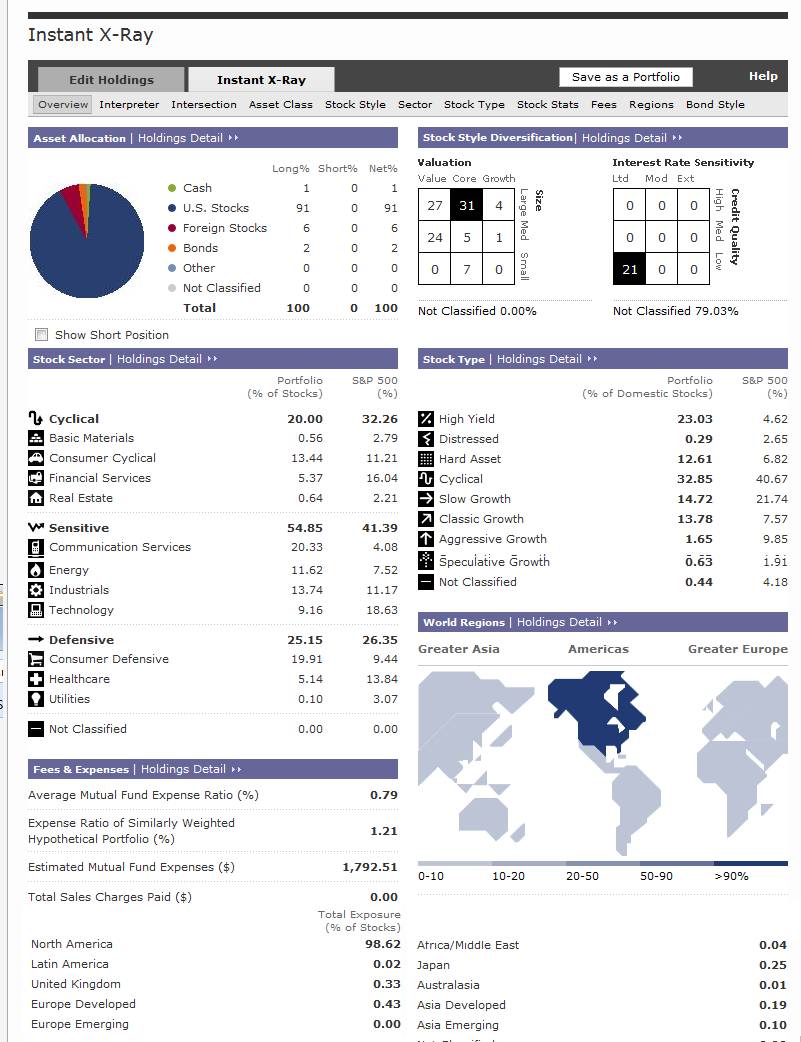 For me, it was as expected.....I think the US markets are the place to be for the foreseeable future, with emphasis on the cyclical sector and communications services.

Instant X-ray can be an eye-opener, especially if one owns a lot of mutual funds - their cash positions and the name of the fund vs to what the fund actually holds.

That data can be taken and compressed down to broader sectors which makes it easier on the eyes:


| | |
| --- | --- |
| Aerospace & Defense | 5.40% |
| Auto Manufacturers | 6.67% |
| Banks | 4.43% |
| Consumer Electronics | 8.61% |
| Diversified Industrials | 0.88% |
| Drug Manufacturers - Retailers | 10.64% |
| Growth & Income | 5.68% |
| Large Growth | 4.66% |
| Mid-Cap Value | 7.13% |
| Oil & Gas | 11.09% |
| Pay TV | 4.46% |
| Shopping Stores | 9.11% |
| Telecom Services | 14.61% |
| Tobacco | 6.65% |
| TOTAL | 100.00% |

This looks good to be for going into 2017 because I think the new administration is going to give quite the lift to cyclicals.


---

And last but not least, December's

Capitalist Pigs latest Monthly Newsletter

.

This is one of the better newsletters to come out in a while.


---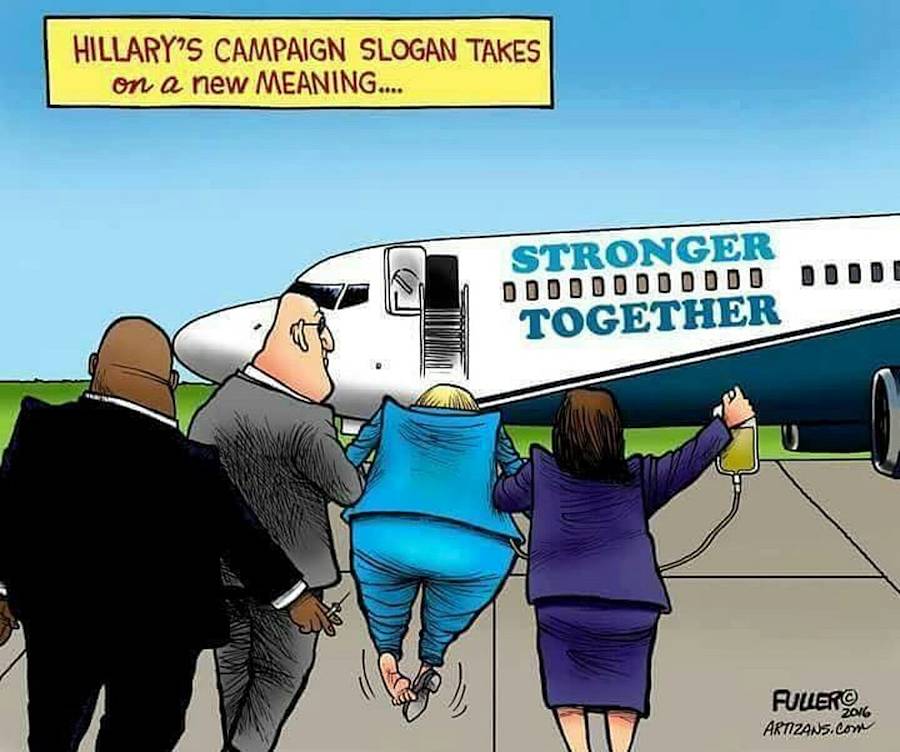 a
The pants suit should have been orange..............

Happy New Year!


---