Salt Encrusted Ribeye Roast


Note: As with many good ideas, they generally occur after the fact. A pork shoulder roast is used in this example because I forgot to take pictures of the Ribeye during the process. A pork shoulder roast seems a bit salty after roasting whereas beef ribeye and other beef roasts do not.
---



The Recipe



Serves 6 - 8

Prep Time 15 minutes

Cook Time 1-1/2 to 1-3/4 hours - or longer

Ingredients :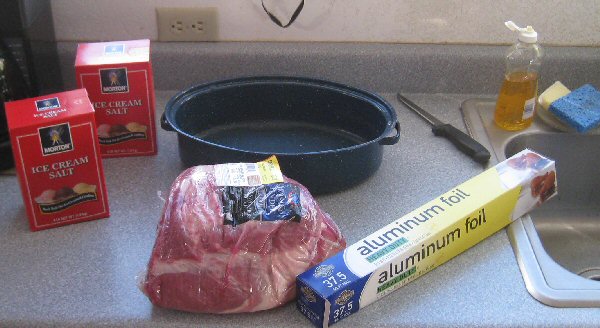 4-6 lb. well-trimmed beef ribeye roast, small end .
1 Tbsp. vegetable oil
Dusting of Garlic Pepper
2-3 tsp. cracked black pepper



Salt Crust:



1- 2 boxes Coarse Kosher or Ice Cream Salt
1 1/4 cups water per box of salt.

Instructions :

Heat oven to 425°F.

Line shallow roasting pan with heavy-duty aluminum foil.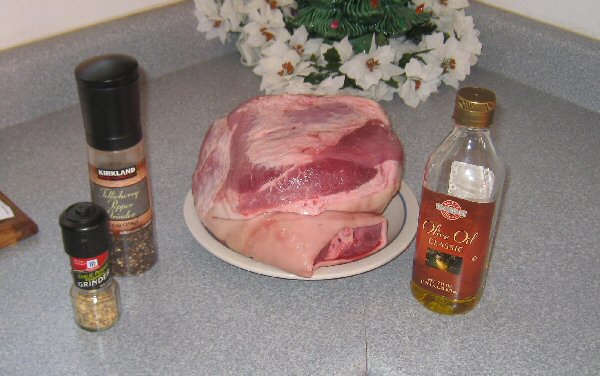 Brush roast with oil. Rub pepper into roast Insert oven proof meat thermometer into thickest part of roast.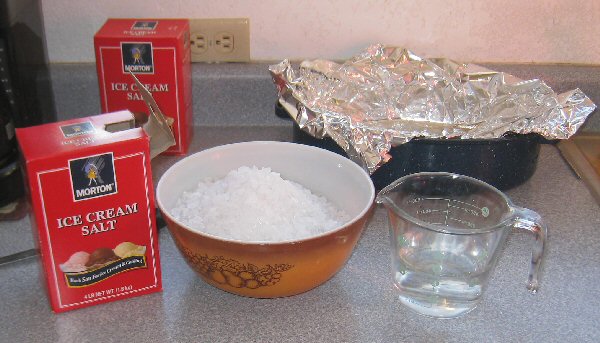 Combine salt crust ingredients; mix well. (Mixture may appear dry, but do not add additional water.)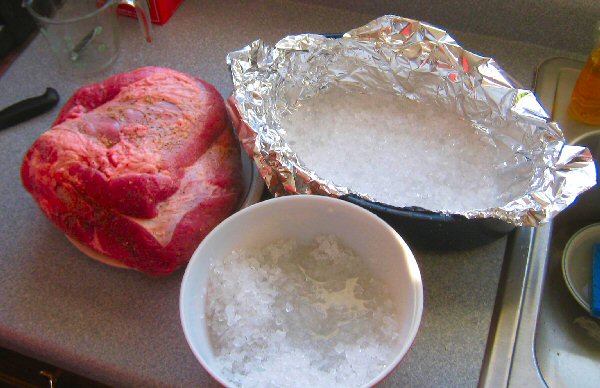 In roasting pan, pat 1 1/2 cups salt mixture into a rectangular shape about 1/2 to 1 inch larger than the size of the roast. For larger roasts, this will probably have to be doubled. I prefer a thickness of at least 1/4" for the bottom.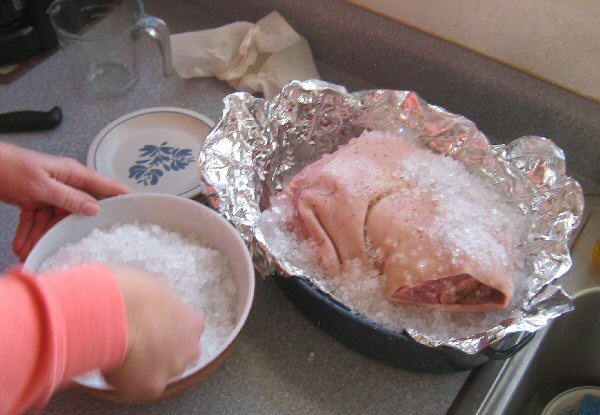 Place roast on top of salt bed and begin layering the salt up on the sides and top of the roast.

Starting at base of roast, pack remaining salt mixture onto sides and top of roast to encase roast in salt.
(Occasionally, some salt mixture may fall off exposing small areas of the roast. This will not affect cooking.)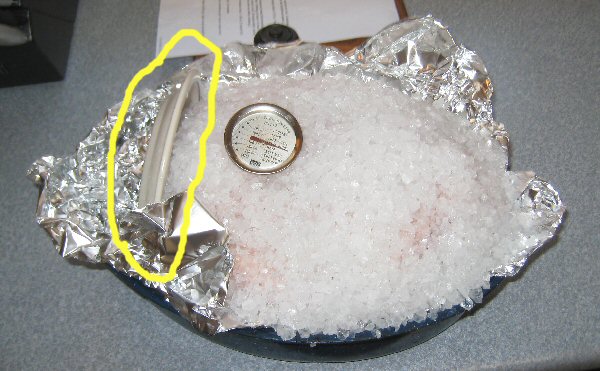 Helpful hint: Begin pulling the foil up around the roast while encasing in salt. Use small oven-proof plates to fill in space between the foil and the oven pan.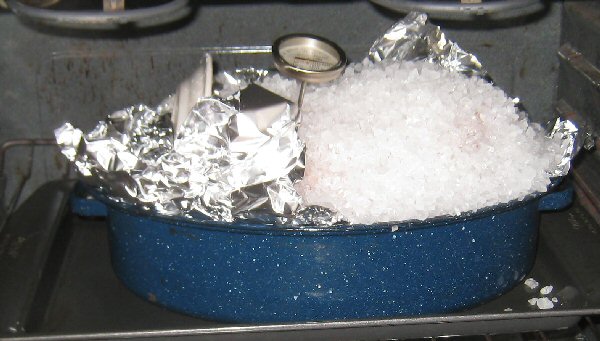 Roast in 425°F oven approximately 1-1/2 to 1-3/4 hours for medium rare; 1-3/4 to 2 hours for medium done-ness.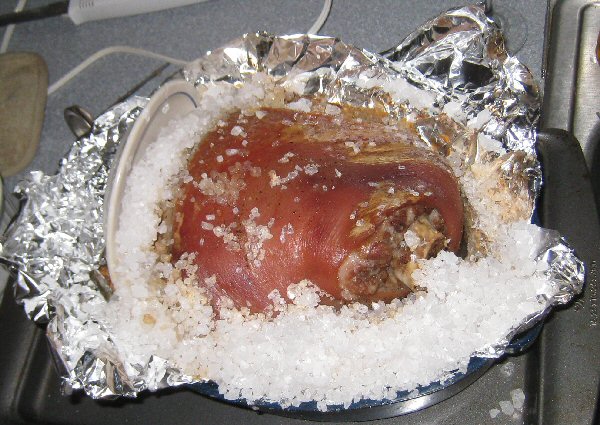 Remove and discard salt crust from roast, brushing off any remaining salt. Carve roast into 1/2-inch thick slices.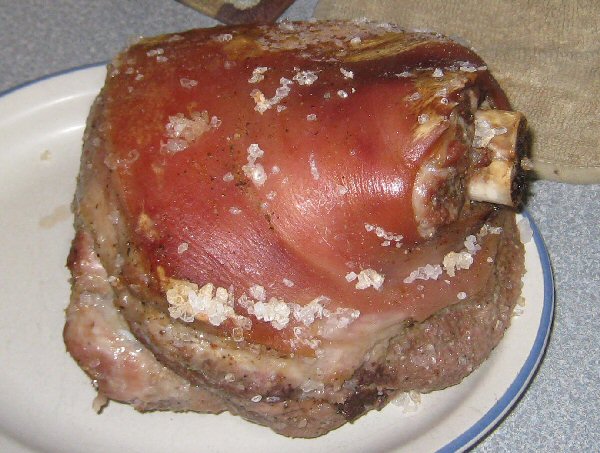 Transfer pan with roast to cooling rack; let stand uncovered, 15 minutes.


---
OK, Here We Make the Switch...........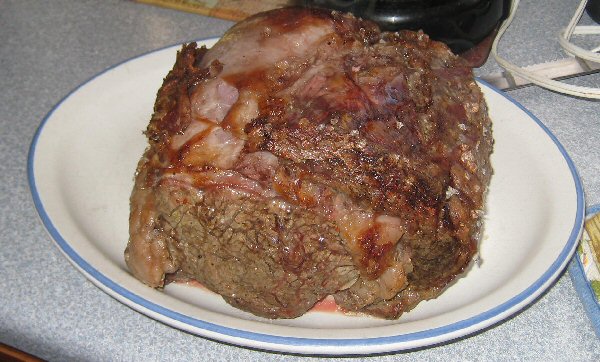 Transfer pan with roast to cooling plate and let stand uncovered for 15 minutes.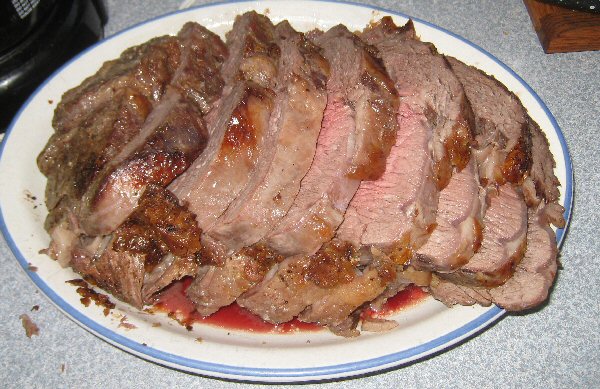 Slice into 1/2" steaks