---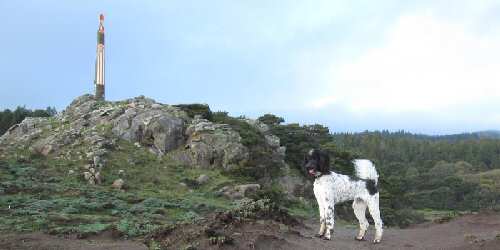 Day 1



Every Easter trip seems to begin with at least one major problematic detail. This year it was what to do with one rather large standard poodle. Dog boarders around town have been making up for the slack business by jacking up the boarding rates. We'd never taken a dog on vacation with us before and decided that taking the dog whose longest trip was a 20 minute ride to the groomers, was a reasonable option. Reasonable, yes. Prudent? Maybe.

You can get some really good off-season rates at some really nice hotels in California this time of year. Lump the recession on top of that and the rates are difficult to resist.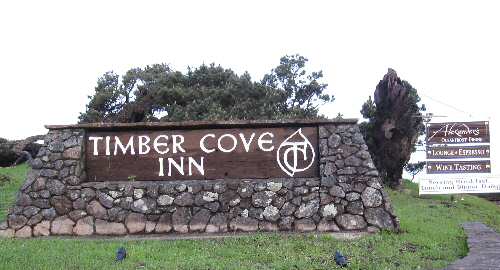 We gave the Timber Cove Inn a call and the place was pet friendly. A pet friendly room was very inexpensive and that should have set off alarm bells but it didn't.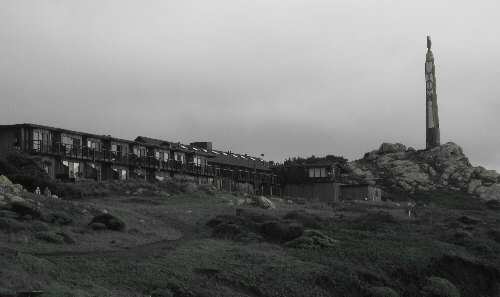 Looks nice enough from the outside. Trails were recently added - nice thing for the dog.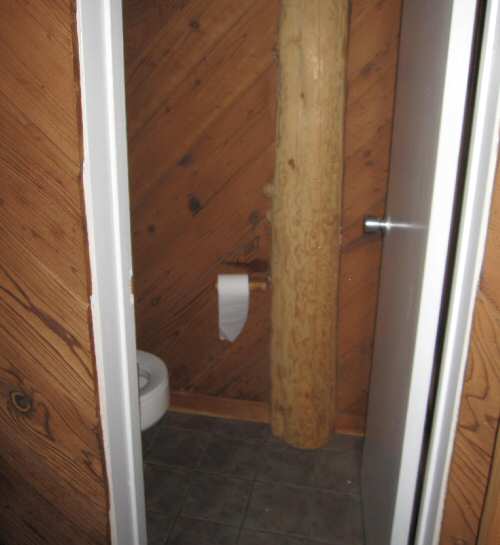 As you walk into the room which is s weird skinny rectangle, there is a cheap, full sized couch sitting against the wall the wall and if you sit down on it, you are looking at a fantastic view of the toilet. The toilet paper had a nasty habit of falling of the toiler paper holder and rolling just out of reach. Marvelous.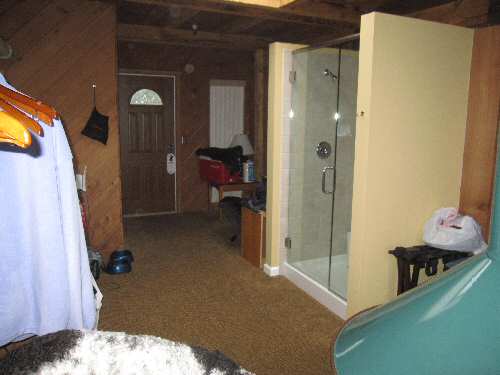 Moving further into the room and right in the middle of the room is the shower. No shower curtain, no nothing. Instead of staring at the tv set from the couch, you get to stare at the shower and whoever's in it. Bizarre.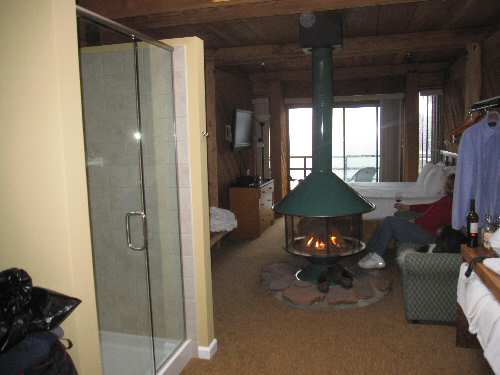 Journeying further in, the newly positioned couch is now sitting directly in front of the fireplace, the only source of heat for the room. The couch is also about 2 feet away from the fireplace and it heats up nicely. Not quite a fire hazard but almost. If you look to the far left you will see the tv, which is directly across from the bed. Notice there are no chairs anywhere except for the outside one so if you want to watch tv, you need to lay on the bed.

Talk about a piss-poor design.

However........we wanted a pet friendly room and the price was quite reasonable.

But..........a pet friendly room doesn't mean it can't be people friendly at the same time.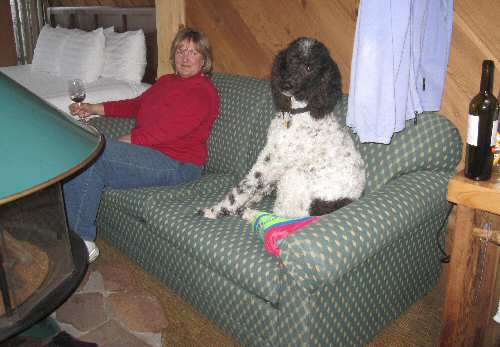 Once we got it all sorted it it wasn't that bad. In fact,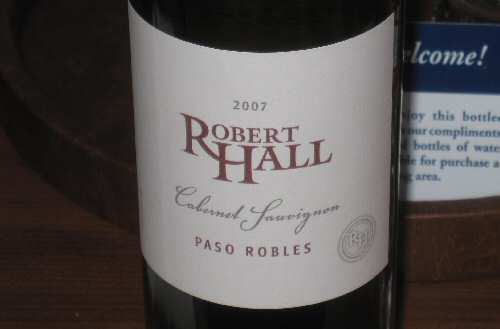 That wine by the way is a really good Cab from Robert Hall out of Paso Robles.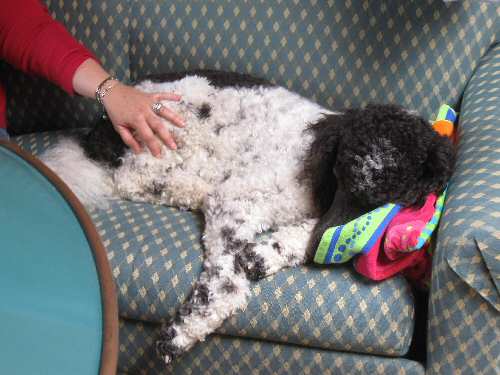 ....some of us were getting just a little bit too comfortable.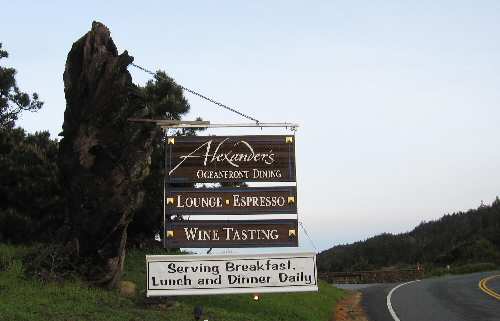 The first night we decided to try Alexander's, the hotel's restaurant. The view was nice and the restaurant was clean however, it was severely understaffed.and overpriced. We took one look at the main menu and opted for appetizers. Three appetizers, one glass of wine and some garlic bread set us back about $76.00, excluding the tip. Not worth the price.

Trying to get a cup of coffee in the morning is a new experience every day. The prices change, the size of the cup changes and the service.........well........lets say the amount of personal IQ required to provide that cup of coffee changes too.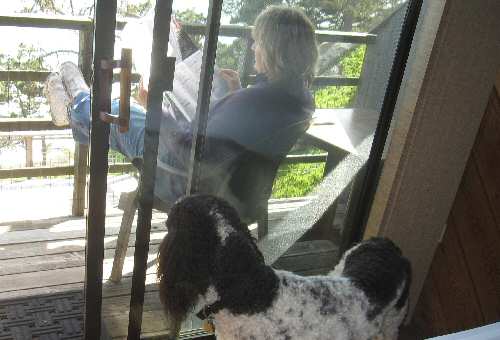 The deck was typical of hotel decks and Max, not being the bravest of poodles, wasn't so sure that venturing out on to same was a good idea. He had to think on that one a while.

Helpful hint: The room has the 'Cove View', which I think is much nicer than the 'Ocean View'. If I went here again, which I probably won't, I'd choose a better room with the 'Cove View.'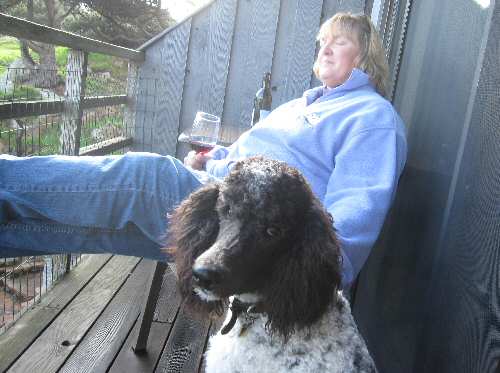 We finally got brave enough to go outside.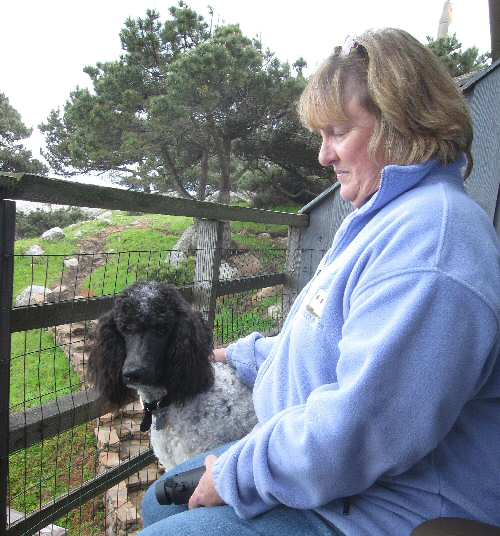 This looks safe enough.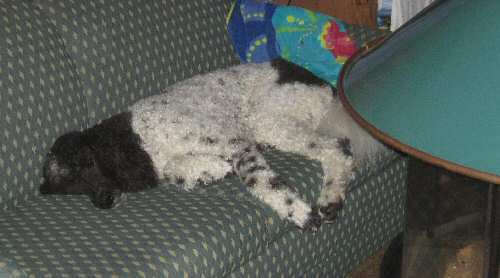 So endeth the first day.

Day 2

Day two started at precisely 4:10 AM to a racket of the likes I hadn't heard before coming out of Max. He was standing at the window barking furiously and it was actually a very manly bark and not the yippy / whiny bark one usually hears for the poodle equivalent of a teenager.

The source of the barking was three raccoons walking on the deck railing from room to room. He was one unhappy dog and let the raccoons know it. Let everyone else know it too. I hope there weren't too many unhappy motel guests. I guess this is one of the reasons for pet friendly rooms.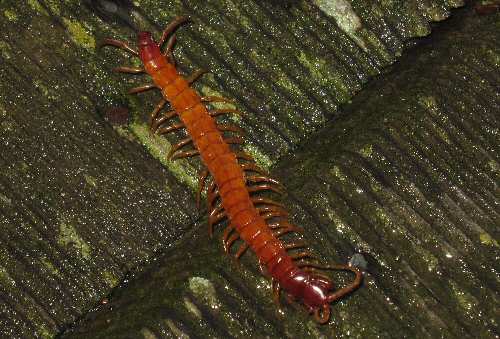 That was about it for sleep for me so around 5:30 I went out on the deck and was greeted by one large centipede.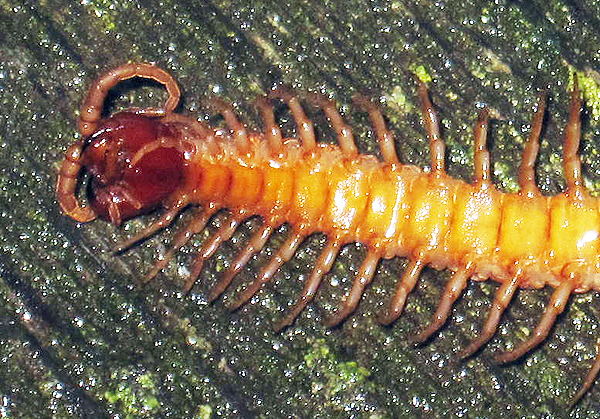 For those of you who find this kind of thing interesting, centipedes are venomous but you'd really have to work at it to get bit by one. The fangs are similar to those of a tarantula in construction except that they clamp together, rather than pull in.

If you do manage to get bit by one, those jaws are very strong and if you try pulling it off, odds are the head will remain firmly attached - kind of like if you remove a tick the wrong way.

And speaking of ticks, get your animal a flea and tick collar if you don't have one. There are a

lot

of ticks around here.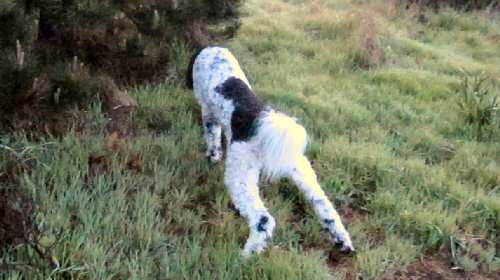 Since it was early morning and since the poodle may have squeezed out one drop in 24 hours, we went for a walk down one of the paths. This was typical exploration - stretch that long, skinny body out as far as possible if something was interesting and be ready to bolt if it got too scary.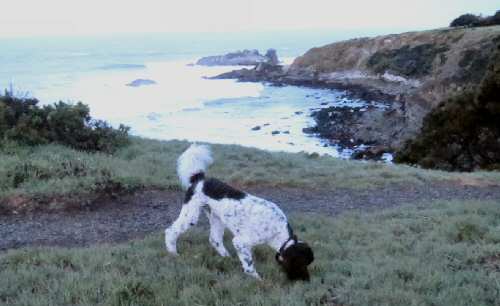 Max did get braver as time wore on. Still hadn't peed though.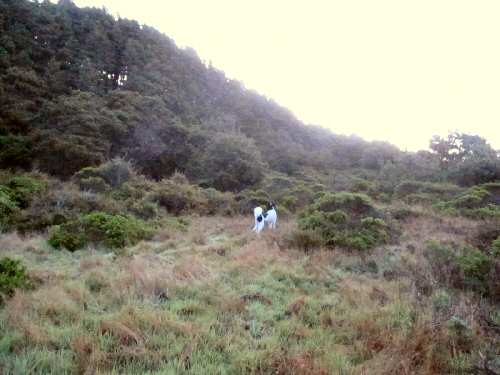 And here he got really brave. One thing about parti-colored poodles, you can spot them anywhere and in any weather condition except for snowstorms.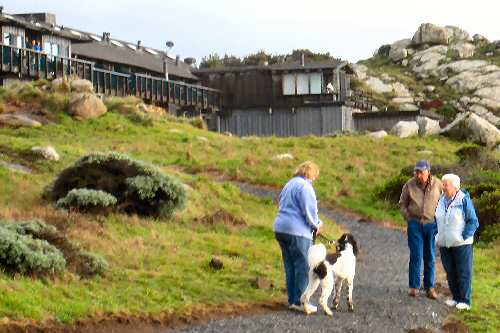 Another thing about parti-colored poodles is that they are quite the conversation starters:

'Young lady, that has to be one of the skinniest spotted cows I've ever seen. You're not keeping a cow in your room, are you?"

....and so on.


---
The Beach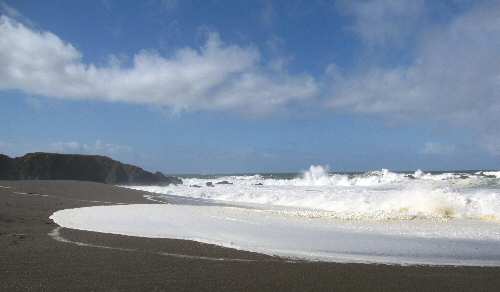 Dogs we found out, are not allowed on most state beaches and where they are allowed, it's on lead only.

In national parks it's worse. The only way you can walk a path in a California state path with a dog is if the dog is on lead and the path is wood, asphalt or concrete.




Part of the idea for the trip was that poodles are water dogs and this one is no exception.

We thought it'd be fun to introduce Max to a lot of water and lots of room to run.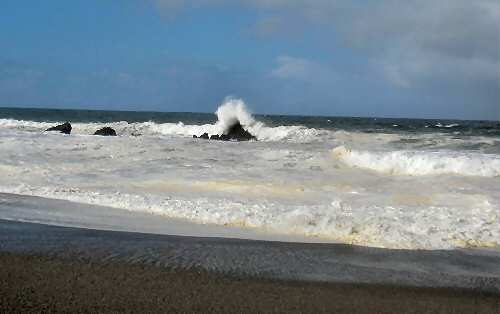 Impressive wave action today....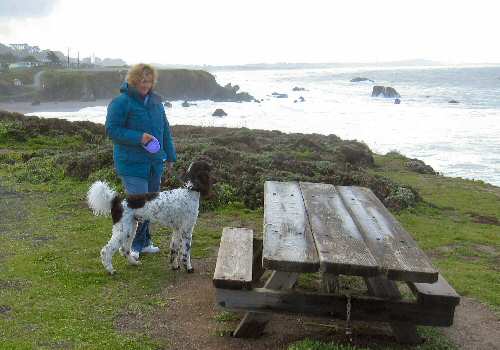 but otherwise for a dog, not very thrilling.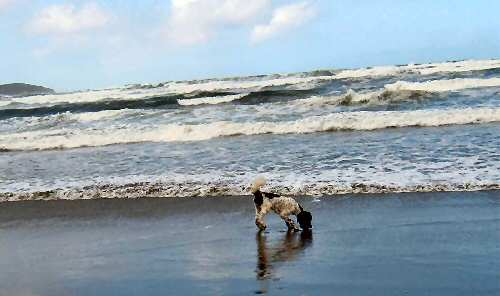 Finally, one kind soul directed us to Dillon beach, literally the only beach in miles where you can turn a dog loose to enjoy himself.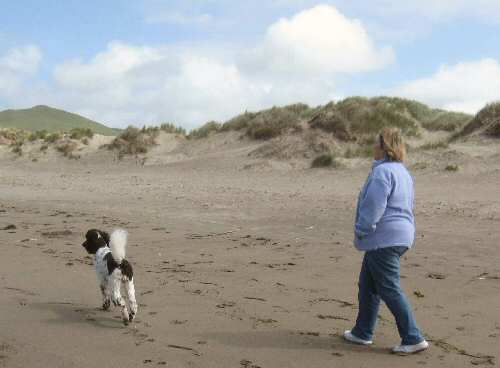 Turned out to be several hours worth of fun.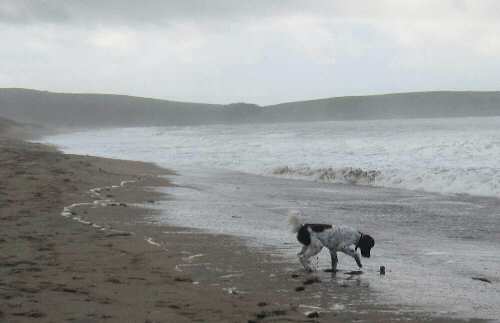 Another helpful hint: Have your fun in the morning. In the afternoon it usually clouded over and then in the evening it dumped rain.



And Speaking of Dillon Beach, the Drive to and from was Outstanding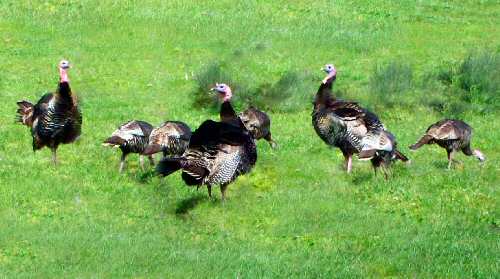 We found where the state legislature hangs out.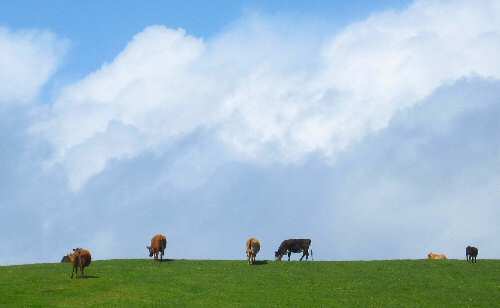 We also found the senate,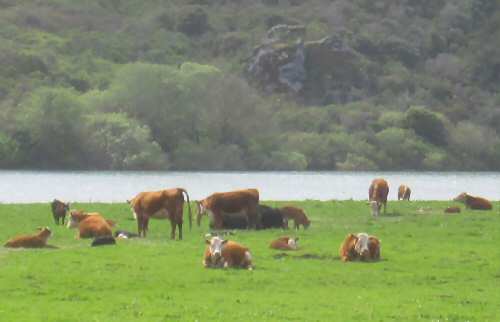 the congress,


\

and their constituents.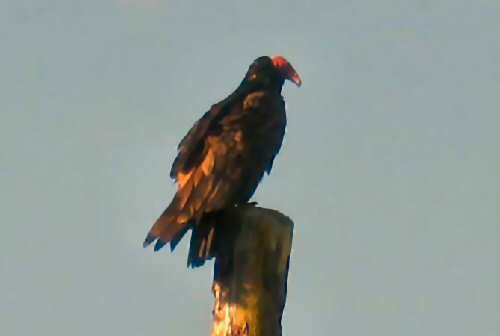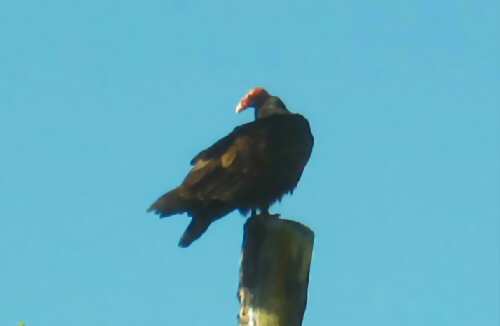 There were also a couple reporters,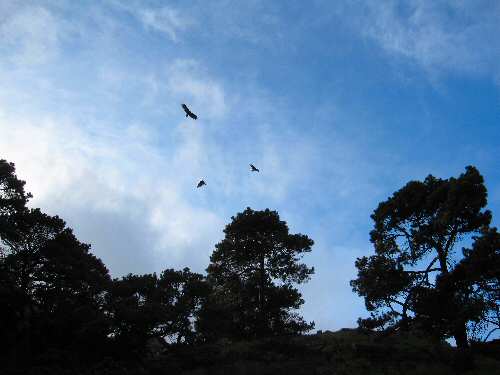 with their stringers.


---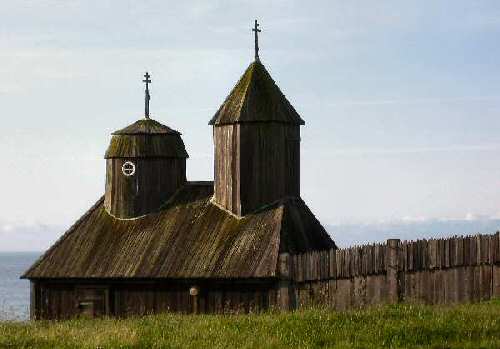 Fort Ross state historic park looks like a nice place to visit if you are lucky enough to find it open. It would be wise if you are planning any visits to specific sites in California. The budget crisis has shut a lot of places down or severely limited the days they are open.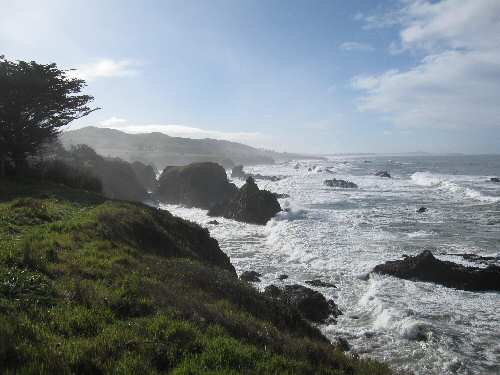 The waves were really coming in on the way back.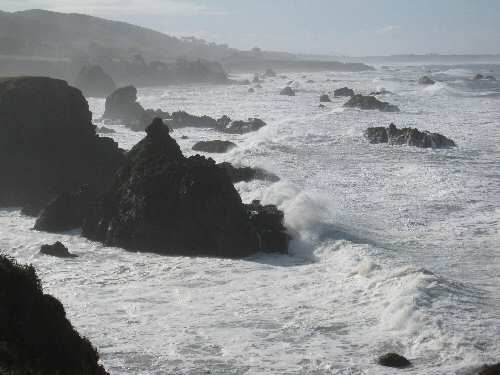 It got foggier.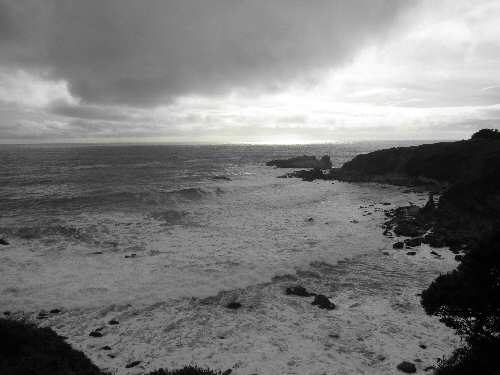 This was par for the course.


---
The Following Evening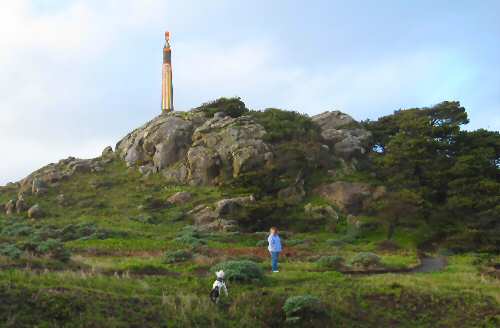 Around back of the hotel is a series of paths. I think the dog had the most fun here.

And what is that totem pole looking thing anyway?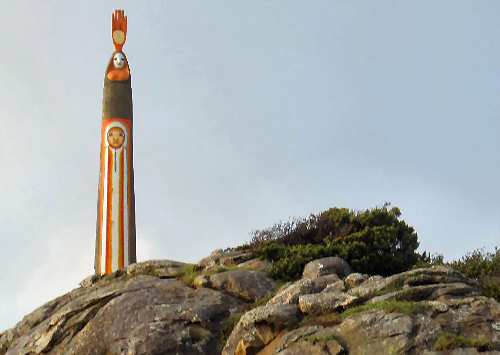 It is an obelisk signifying something.

What was the inspiration for building this fine work of art?

If I was to guess, I would say Mescaline.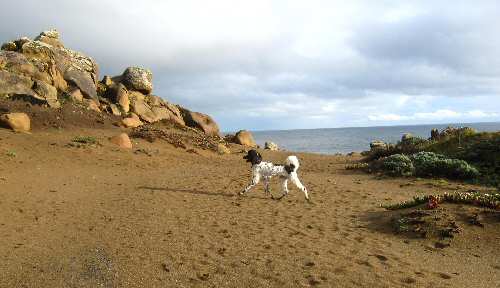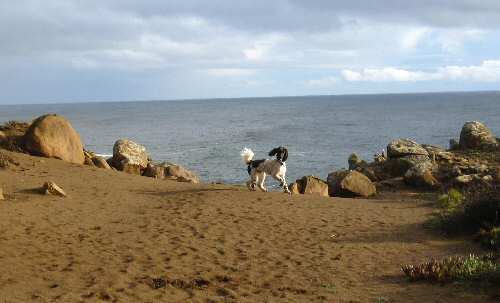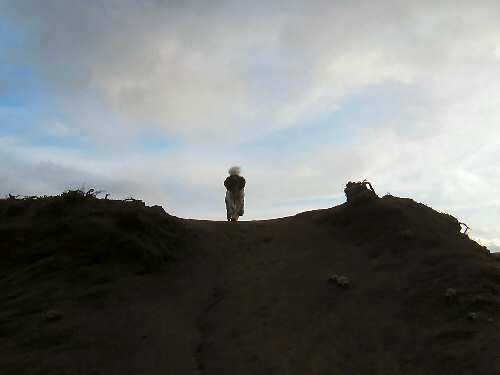 Max had a fine time here in part because I think it reminded him of the back yard with a better view.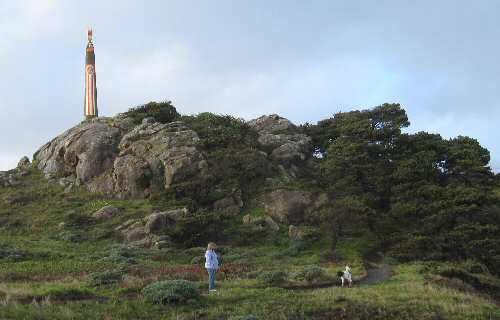 ---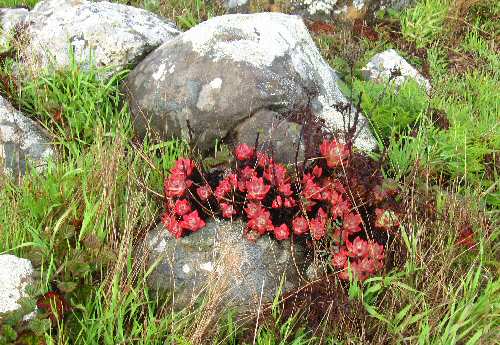 While they went back towards the hotel, I decided to poke around a bit.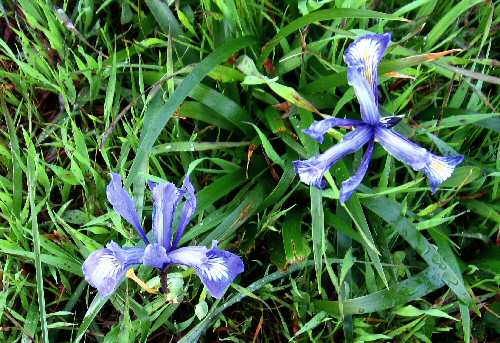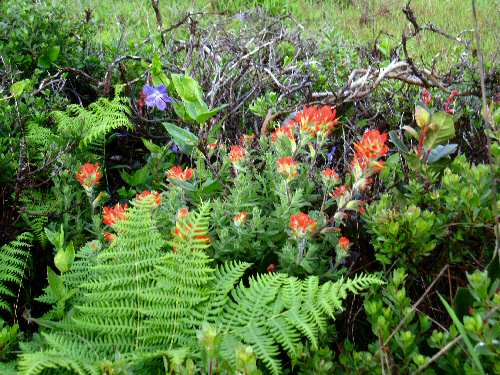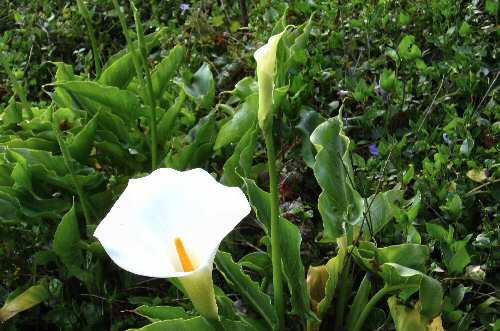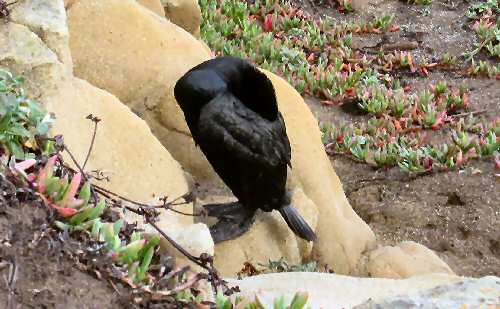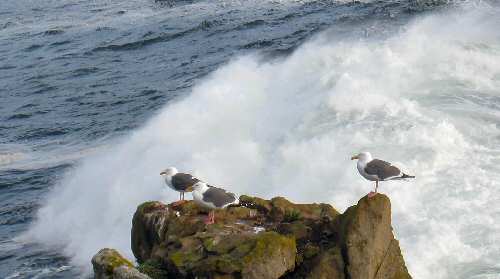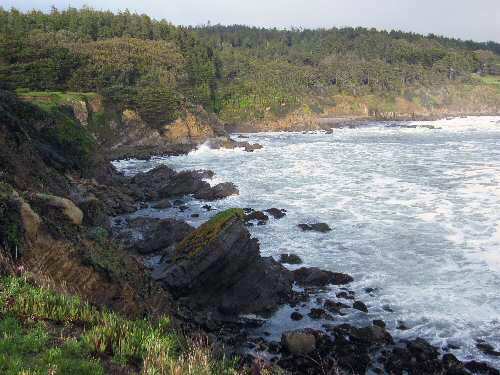 The 'Cove View.'


---
The Following Morning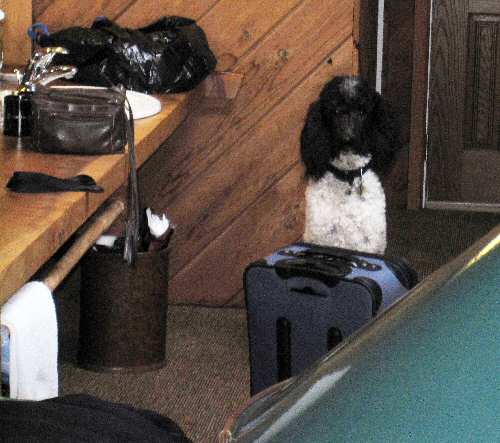 We woke up the last morning to this. Dogs may be more intuitive than we think they are.

The End