I was looking for a couple cheap, low profile crabs with persistent fruit in the fall of 2005.
Malus Cascade is a weeping crab and Snowdrift is a small / medium sized crab.
Snowdrift cost me $15.95 and Cascade cost $9.95. Both were in five gallon buckets.
Snowdrift actually looked pretty good when I put it in the ground.
Cascade however, was a different story.
I dug the hole and added all the amendments.
I laid the bucket on its side, tapped it on all sides to loosen the dirt and gently pulled the tree out.
The tree pulled out all right, straight out of the dirt. Why? It looked like most all the roots rotted off.
There were five or six roots left and none longer than six inches.
Well, what do you expect for $9.95?
I planted it anyway and staked it real well so it wouldn't get blown over or just flat fall over on its own.
Both trees survived the winter and bloomed in the spring.
The next thing is increase that trunk size.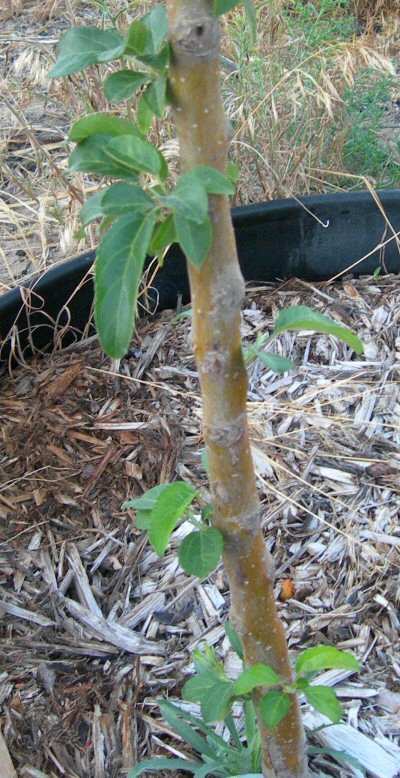 These trees always come with all the twigs and growth removed from the lower three to five feet.
That is a bad deal. The trunk needs those lower branches to help increase it's own size.
Those lower branches also help the tree deal with those afternoon wind storms by providing extra stability.
Let any new growth grow. The idea is to have a tree that resembles a large bush during the first
four to five years. The only reason for removing lower limbs during this period should be because
of damage or something serious.
Those lower limbs also keep young dogs from stripping the bark off and rabbits from chewing it off.
Follow these simple steps and odds are you may be pleasantly surprised and end up with some pretty nice trees.