July 2007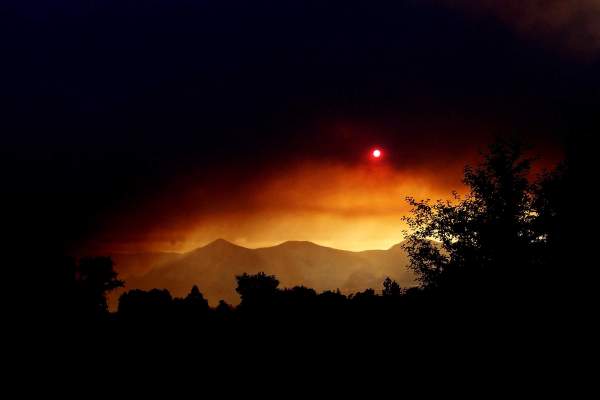 If anyone wants a higher quality image of this, let me know. I have it at 2304x1536 px.

This is a picture taken from the back porch the first night of the Tahoe Fire. It rained ash down here. Driving home at
night it looked like it was snowing. I think TRPA needs do some loosening up when it comes to defensible boundaries
and spaces.

- And suggesting that using pine needles for landscaping and erosion control is a good idea?

Meanwhile, down in the Valley.....




Well, Big Mama is no longer Big Mama. She lost about half her size over the winter of 2006. The main problem seemed to
be longitudinal cracking in some of the older stems. They cracked, froze and killed some major limbs.

Someone who knows more stuff than me about this, suggested I coat the lower portions of the limbs with white latex paint
as a preventative. I have heard of that before. I will give it a try.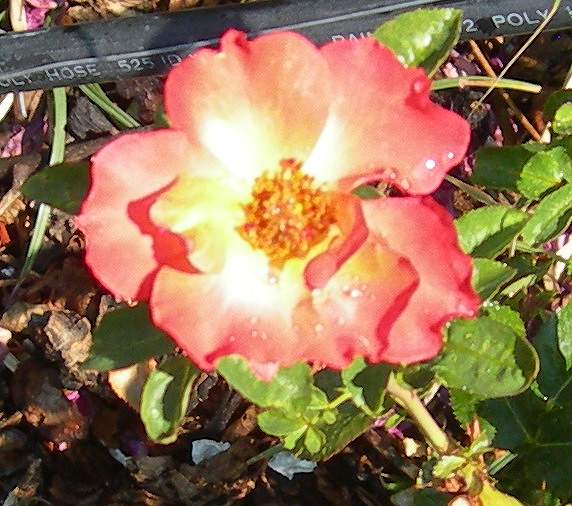 Playboy, to my amazement actually lived. It is a bit smaller than last year, but is still alive.
These roses are truly gorgeous if you can get them to grow to a decent size.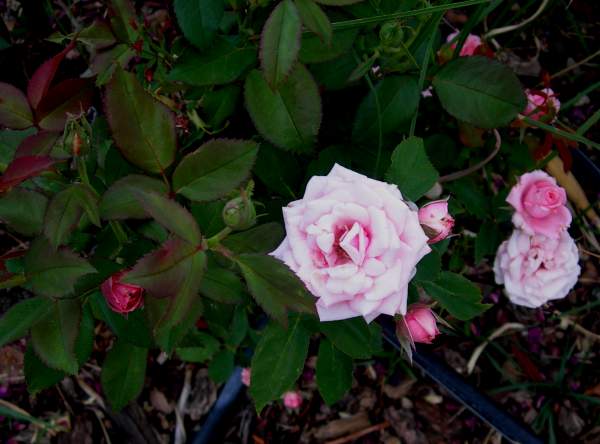 This is a floribunda - Queen Elizabeth, I think. It was reduced to about one third of its normal size.
It is still hanging in there though.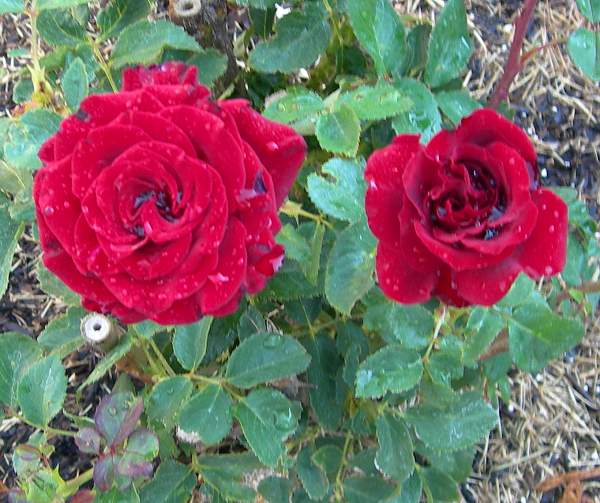 Debbie's dad, who lives in Maryland and is something of a rose fanatic sent us this HT rose, Black Magic.
It is supposed to be one of the deepest reds out there. These are the first blossoms. If we get a spectacular one,
I will post it. The true test of course is - can it survive a winter or three. On the plus side, this is one of the few
roses in these 100+ degree temperatures, that is still producing blossoms.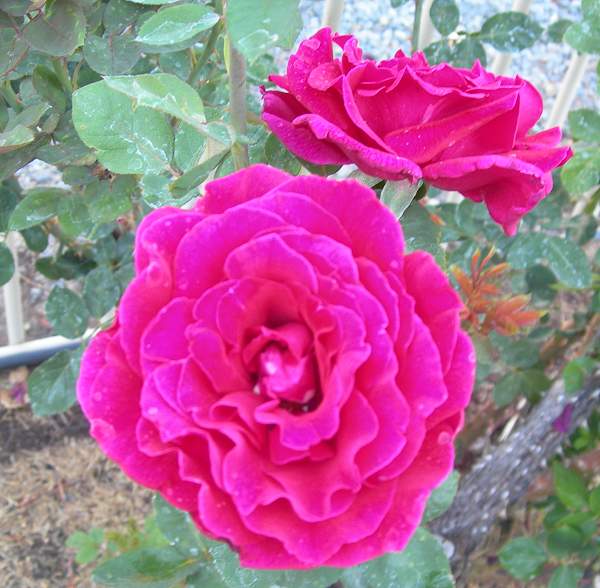 Mr Lincoln, after losing about half its size is putting out some nice blossoms.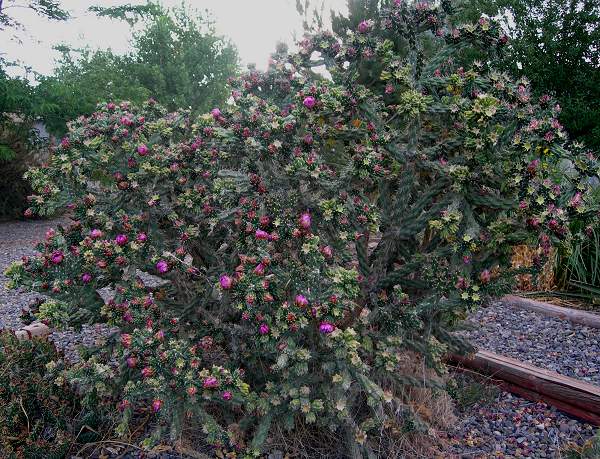 Moving on, we must of course examine the cacti. My big, native guy is doing quite well. The latin name is posted in the cacti
pages. I think I will take a pad and see if I can start a new plant out by some Mormon Tea. It might make for an attractive
arrangement.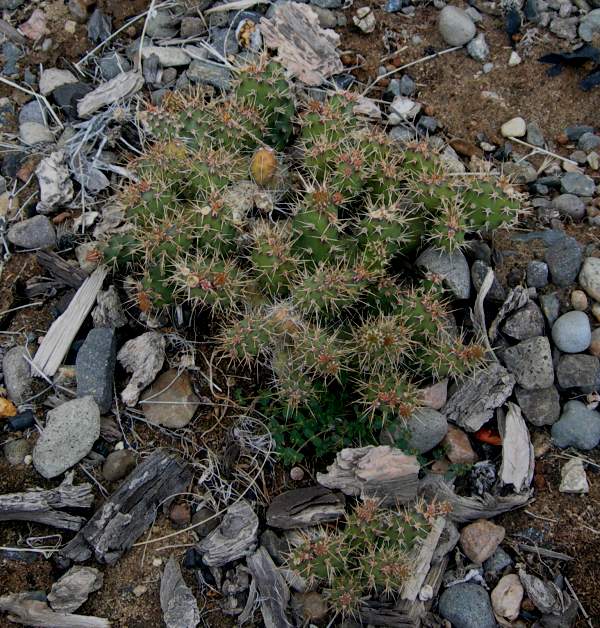 This small cacti I purchased in the fall of 2006. It was posted as being native and it must be. It survived the brutal winter
and is looking quite nice. I adjusted the sprinklers to where the cactus patch is getting 10 minutes a day, every day. This
seems to be working rather well. I have not had this much growth in the patch for years.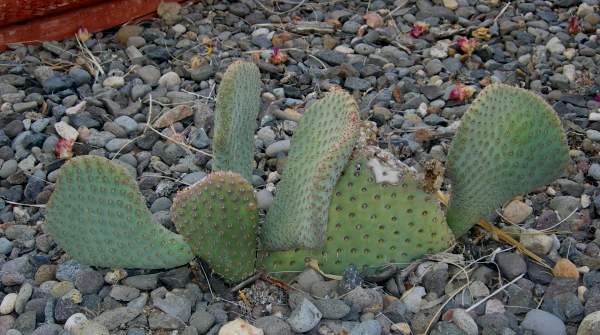 This cacti comes from a pad I picked up near the Haiwee reservoir two years ago. The northern California cacti
can be a little iffy when it comes to extreme temperatures but this one weathered 2006 nicely and produced four
more pads this spring. Now if I can get a photo of a blossom.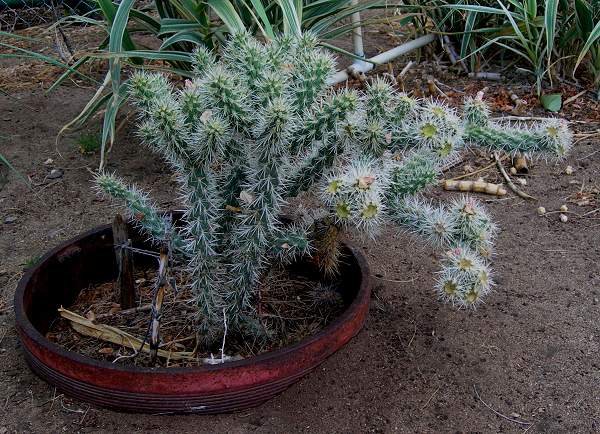 The Cholla I picked up from Haiwee is dong very well. It is very thorny, tough and producing pads like crazy. It would be nice
to see this get several feet tall.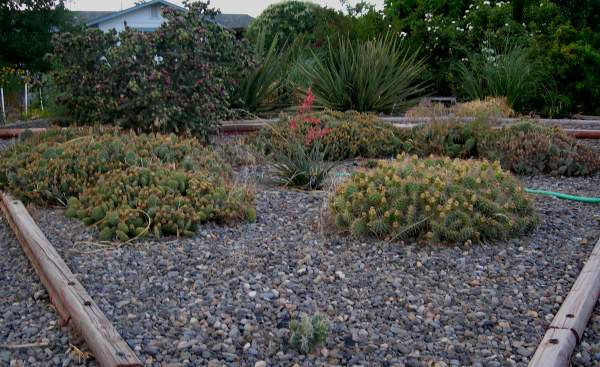 A view of the patch as of July, 2007. Looking pretty good.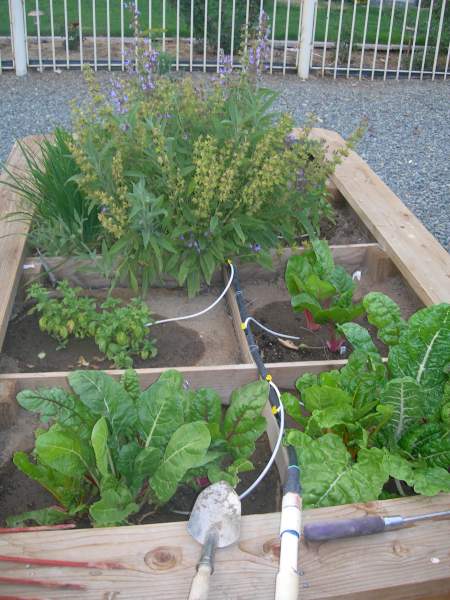 Moving on to herbs and chard, all are doing quite well. The rainbow chard shown here has been the provider of two
previous dinners. Cut the outer leaves for dinner and let the rest grow for another meal.




How about a little Thai Basil. The variety is quite good - a little spicy and kind of sweet. Lives up to its name.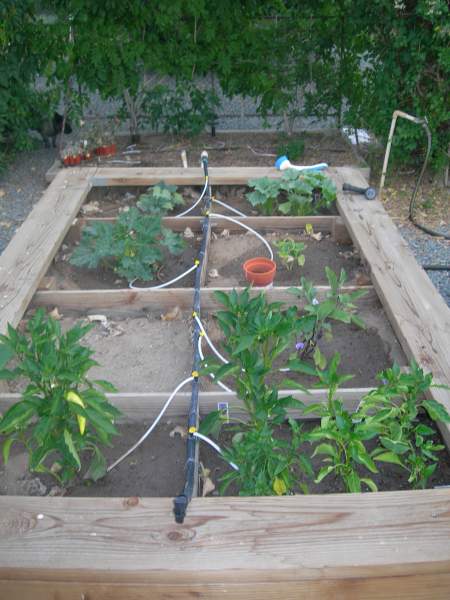 Here, we have sweet peppers, spicier ones, patty pan and yellow crookneck squash, and lemon cucumber.
I suppose the first question would be why the squash looks so small. The answer is - plant later on and avoid Squash Bugs.
These critters have decimated our squash when we plan them early. I have found that if I plant them later, everyone else gets
the squash bugs and we get a healthy yield, albeit a bit later than everyone else.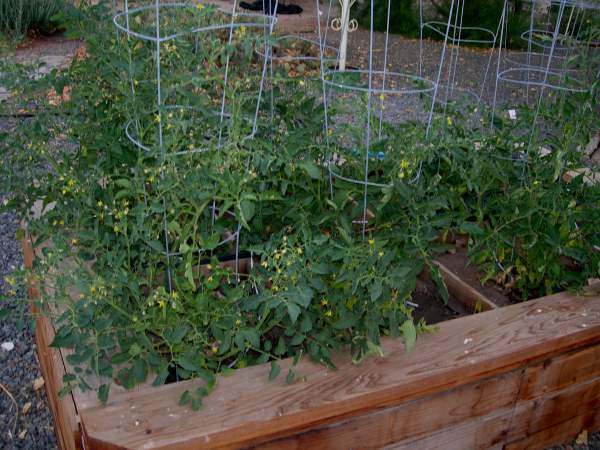 All the tomato plants except one have fruit. The Sweet 100's and Early girl look like they will be producing some mature, red fruit
by the end of July. There was one red tomato July 4. Very sweet and a good harbinger of things to come.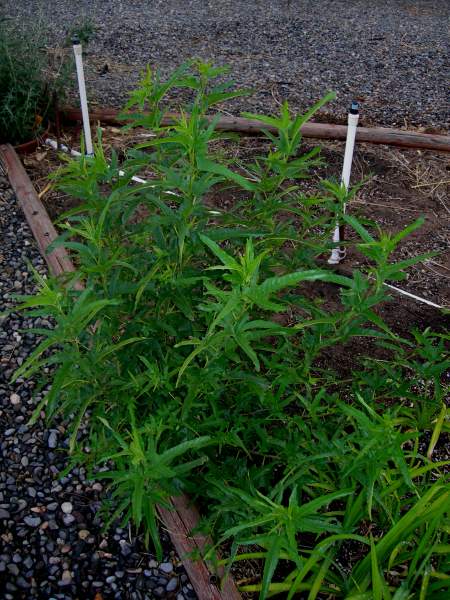 The Mystery Bush - the consensus now is that this thing is a weed, but no one knows for sure.
I went down to the cooperative extension today with samples and pictures to see if one of the Master
Gardeners can identify it. To date, no one has. If you think you know what this is, I am all ears.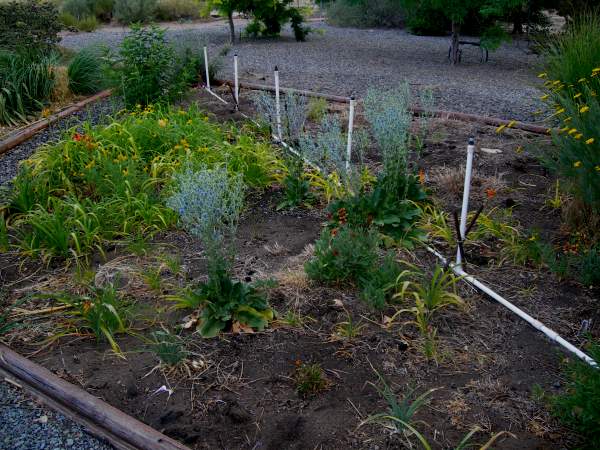 What is wrong with this picture? Ever seen so many Day Lilies with yellow leaves? Major problem here, and the major problem
seems to be poor Nevada soil - Iron deficiency in particular. I am working to correct that.

One interesting item in the winter kill arena is that Mare's Tail, Red Root Pig weed, Noxious Grasses and Puncture vine seem to
have gotten decimated as well. This year is the first that I have not had to spend hours pulling out the weeds from hell.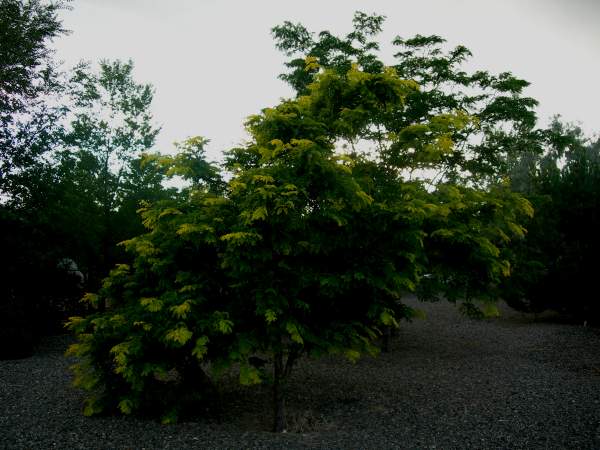 I have two Golden Locusts and they have to be among the slowest growers around. They were not phased by the extreme
cold spells last winter. They look nice and it would be nice if they grew just a bit faster.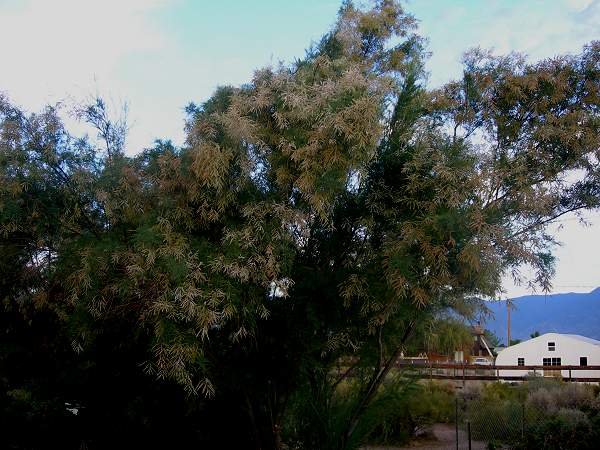 The Tamerisks came through unscathed. They look very nice and are helping cut the afternoon wind blasts through the valley
and the also provide some shade.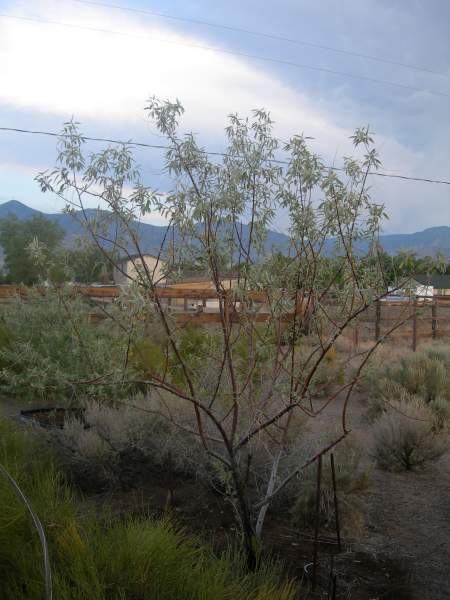 Two of my Russian Olives look like this, which tells me water is an issue. The problem is that when I planted these, I did not
have a very good watering system so I suspect these trees are shallow rooted. I don't really know what to do about it now.
Perhaps some of the roots will go deeper and help eliminate the 'Pom-pom' effect.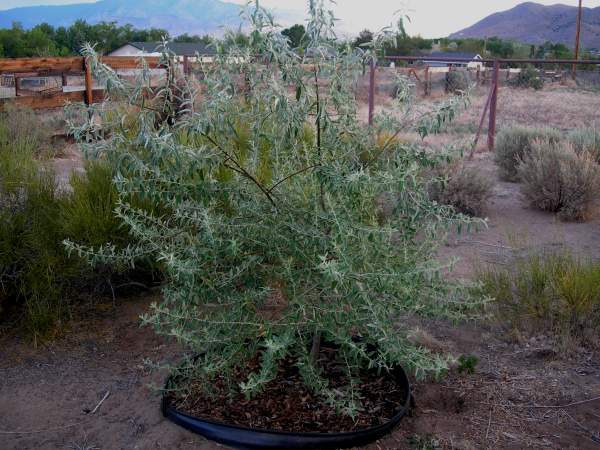 This olive seeded itself and is doing much better than the other two olives in the immediate area.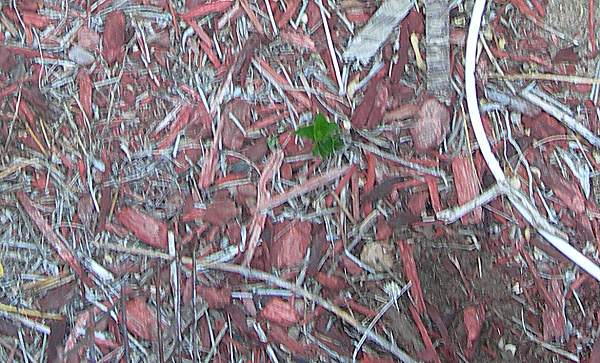 This Osage Orange I thought was dead until today. July and this tall - odds are the thing will be dead by winter.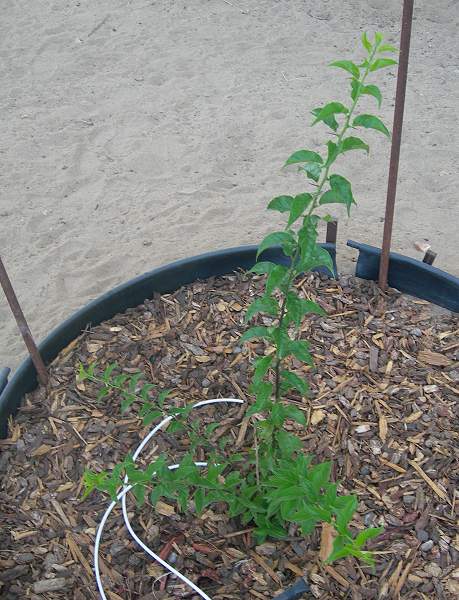 The other hedge apple tree is now larger in diameter than it was last year and it looks like the main stem is hardening off.
I would like to see a trunk survive the winter.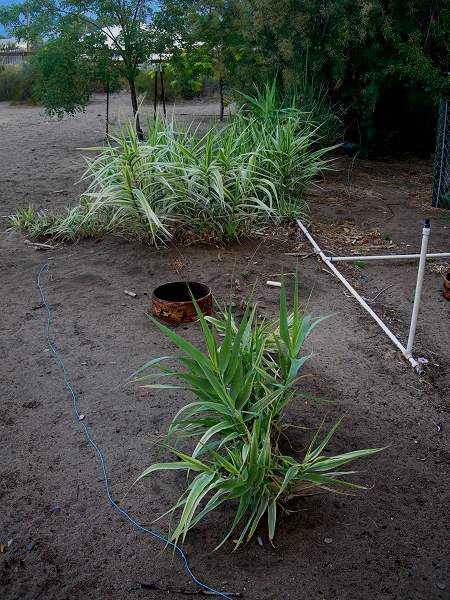 Some of my Silver stripe bamboo transplants took The plants near the top left of the photo I will transplant in the winter or spring.
I would like to end up with a 20' wall of bamboo.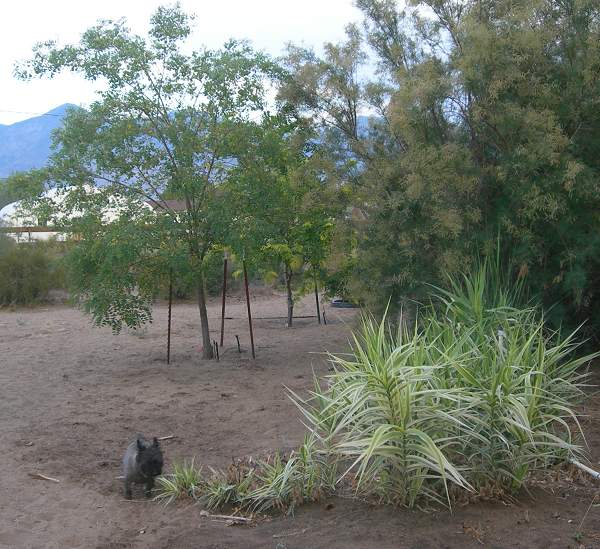 Why is it Cairn Terriers often show up in photos?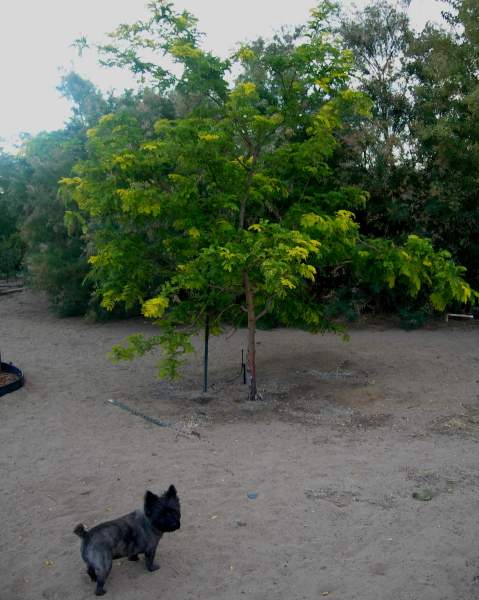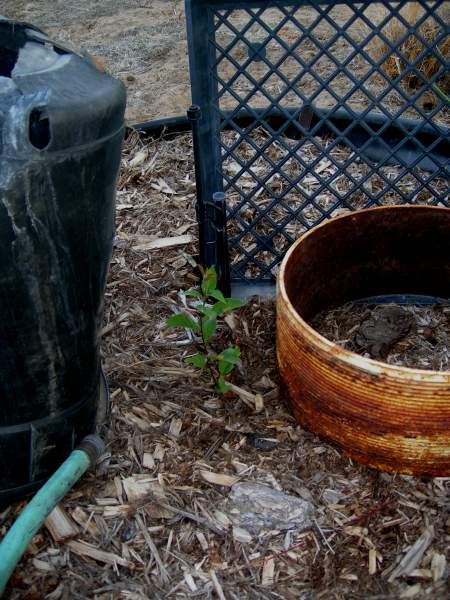 I am still amazed this crab out in indian burial ground territory is still alive + 1 month and green!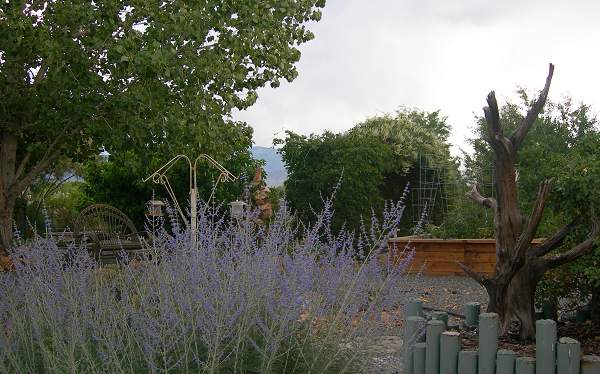 Russian sage is one of those plants which seems to thrive on abuse. It is still thriving.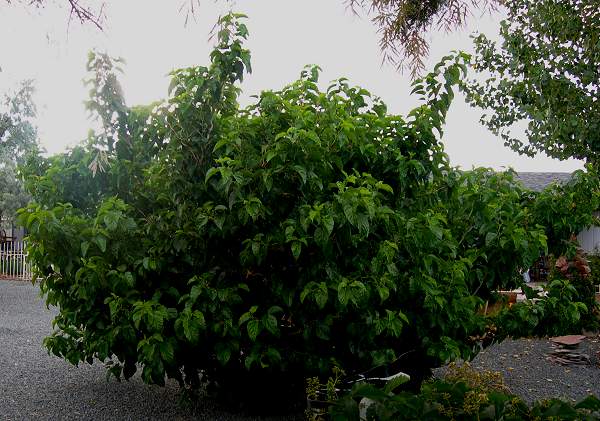 The contorted filbert always starts out late and gets killed off early but it comes back year after year and with no damage.
A very attractive bush - tree. My Master Gardner contributer says one of the reasons for owning these is for that catkins
in the fall. Never seen those. The filbert stays green until first frost whereupon all the leaves turn black and fall off.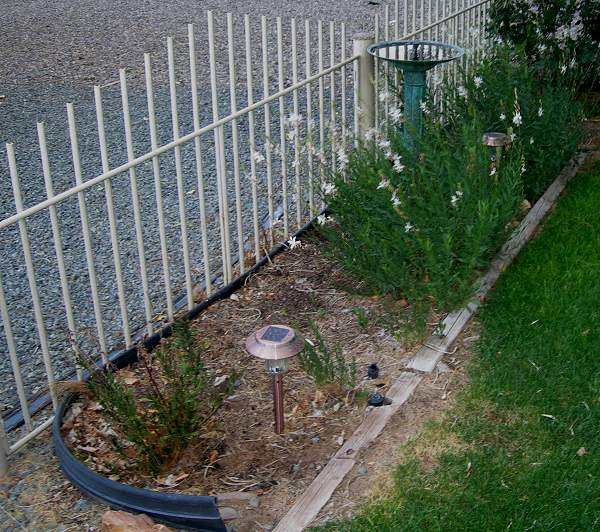 Whirling Butterflies got decimated. The plant in the left corner is a Walmart replacement. I doubt this will fill in any time soon.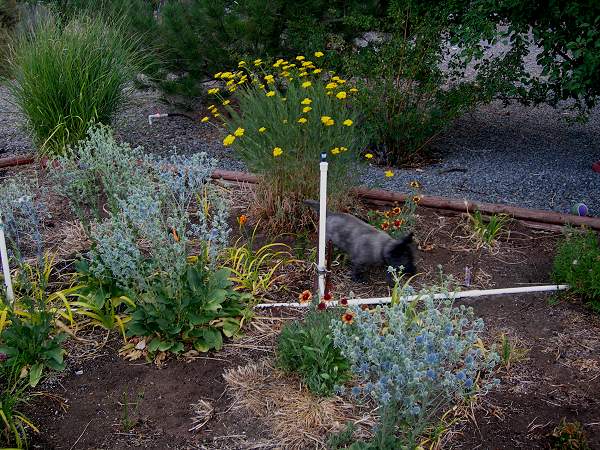 The rotten dog is sniffing out grass. Won't eat Day Lilies or Sea Holly. Loves Grass.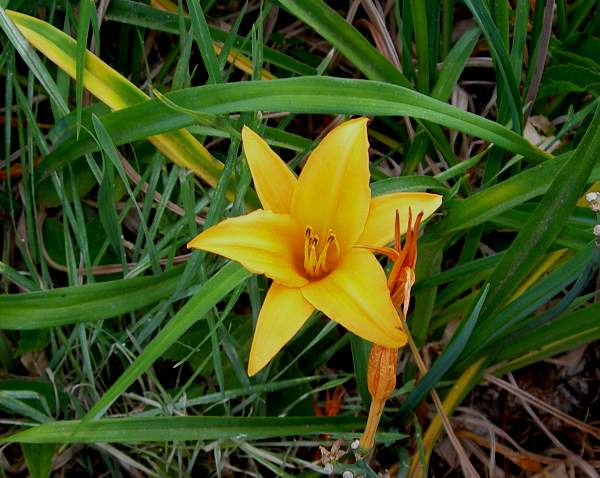 A couple of my Day Lilies are doing well. This is one of them. Still an Iron problem, though.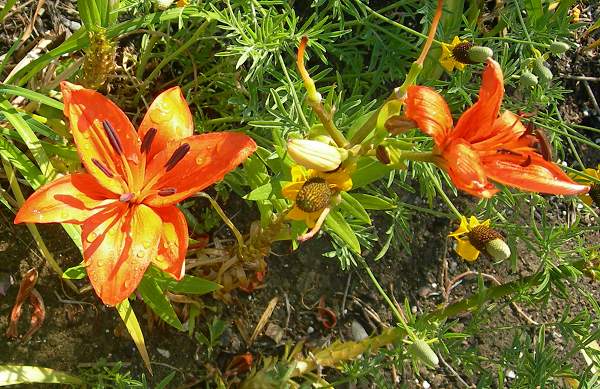 This lily was out of a grab bag. I think it's probably an Asiatic Lily.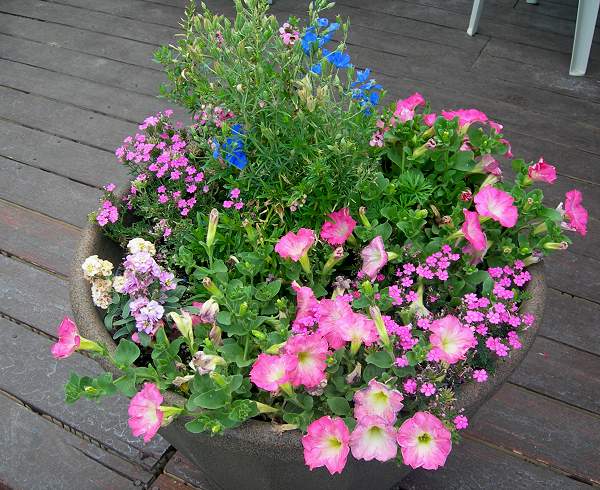 Debbie's baskets are just starting to flesh out. The late frost got some of them. Give these guys another month
and they should be an impressive sight.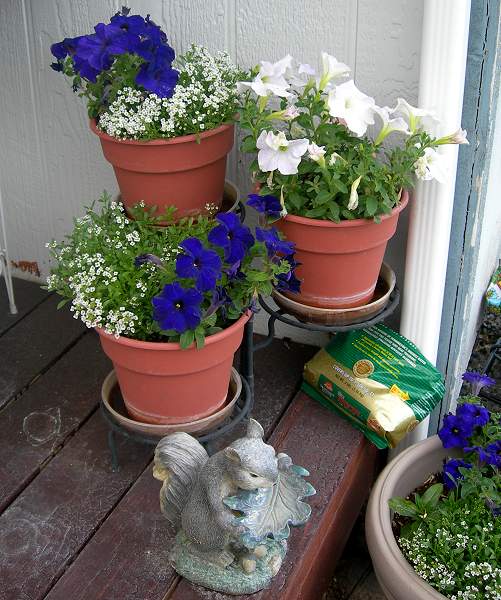 Some more of the pots.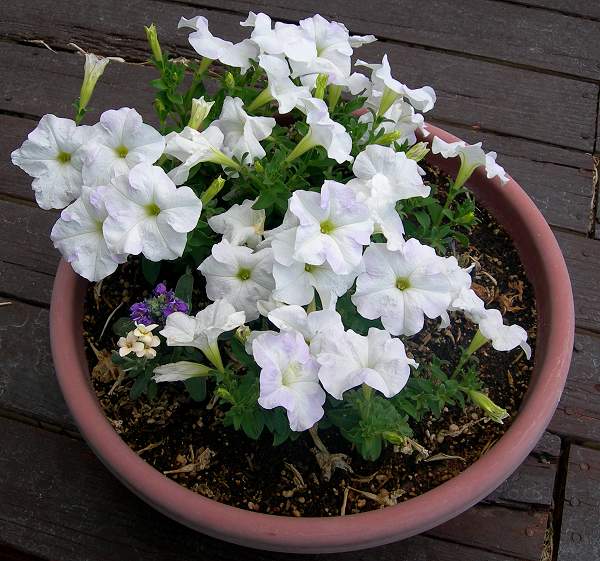 Petunias do quite well in northern Nevada. Some of our favorite varieties are Martha Washington.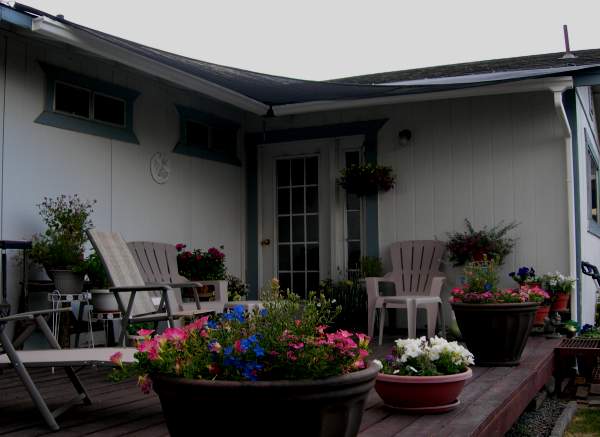 Newly stained deck, UV protection and a bunch of pots should make this quite the scene in another month or so.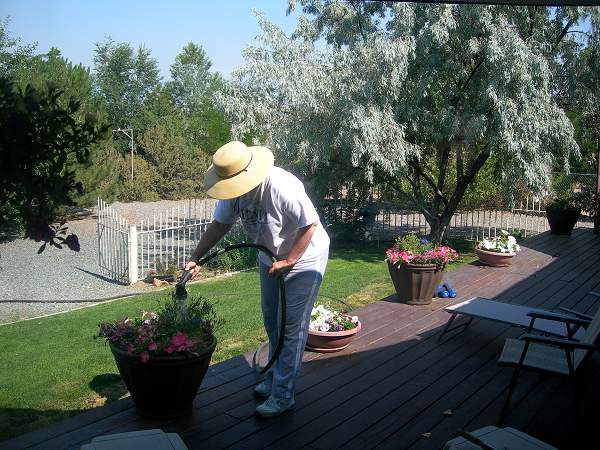 Watering pots twice a day during the hot parts of the season does wear on one. A month or two of this and one
does start looking forward to that first frost.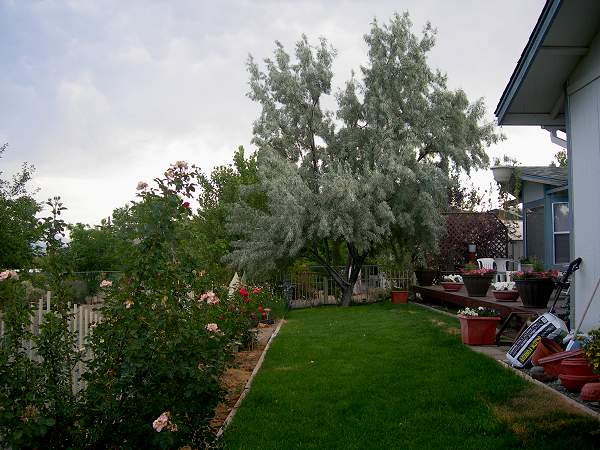 We sodded in the bed below the deck. I think that will look much nicer and will be a bit less maintenance.
In some areas I got a bit carried away with Roundup and Grass Getter. Have to be a bit more careful next time.