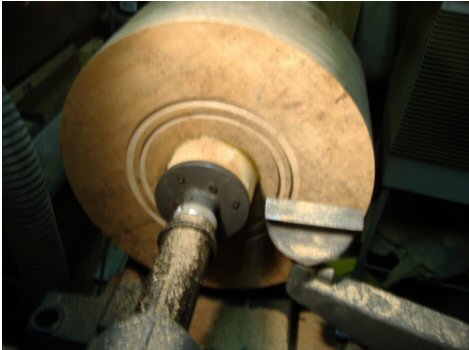 Defining the bowl base.

I still have not gone to a store and actually looked at a salad mixing bowl so this takes a little thought.
I figure the bowl should have a bottom about one third the overall bowl diameter, which is about six
inches. A head of lettuce is about that size so I think this should be about right.

I change tool rests and restart the lathe. I use the parting tool and cut two grooves about ¼" deep.
The wood left in between the two grooves will become the bowl base.

This particular method is actually of my own creation and I think it works rather well.
You are not limited to a particular size for your bowl bottom using this method.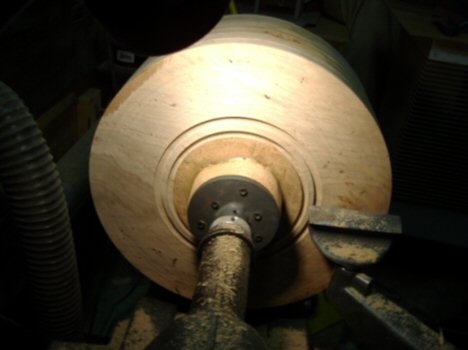 Getting the Bowl Bottom Flat
I have defined where I want the bowl base but I do not know that the bottom is flat so I start cutting wood
from the bottom until I see new wood. Once I have that I know it is flat.

I spend another ten minutes or so making the bottom slightly convex, sloping the bottom out until I see
new wood. I now know the bottom is flat and the circumference is round.

Vibration is a big deal so all these preliminary cuts are to get the blank as centered and as round as
possible.

Time for a Pepsi break. When I get back I will start contouring the side of the bowl.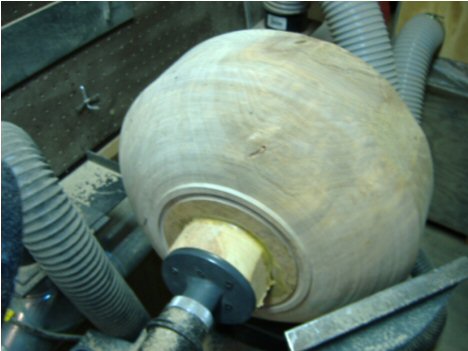 Profiling the Bowl. End of Day One.

Whew! My hands are tired. It took almost two hours to get it this far.

Enough wood has been removed so you can see the bowl base as it will appear. About half of the bowl side has been turned. It is starting to show some nice grain.

I think the bowl will need to slope up more because it looks like you would not be mixing a head of lettuce; you would simply be stirring it around the bottom if this profile is kept.

Like I said, I don't think Debbie realizes how big a salad bowl this will be.

Considering that and the fact that I still not have gone to the store and looked at one,
this will be a project with a lot of 'character'.